And at my house means the kids make the pizza. I just cut meat and vegetables, cook pizza and chicken strips, and then we eat all the pizza we want because were making two 14 inch pizzas with cheap and cheerful chicken strips.
Dough:
1 tsp yeast
600 g Strong White Flour
2 tbsp olive oil
2 tsp salt
340 ml of cold water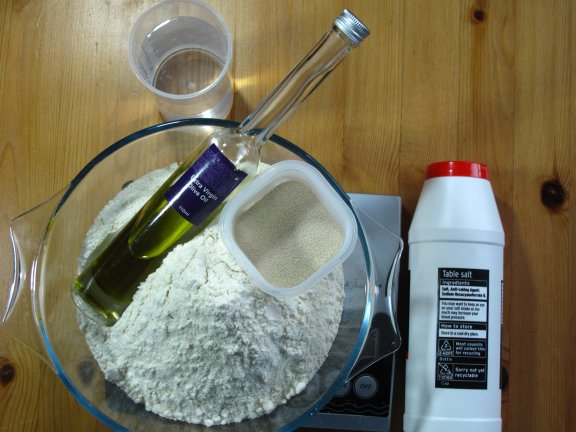 Sauce:
500g jar of Bolognaise Sauce (Dolmio is my favourite)
Toppings:
Baked Ham cut into squares
Shallots chopped
Pepperoni cut into quarters
500 g Grated Mozzarella cheese*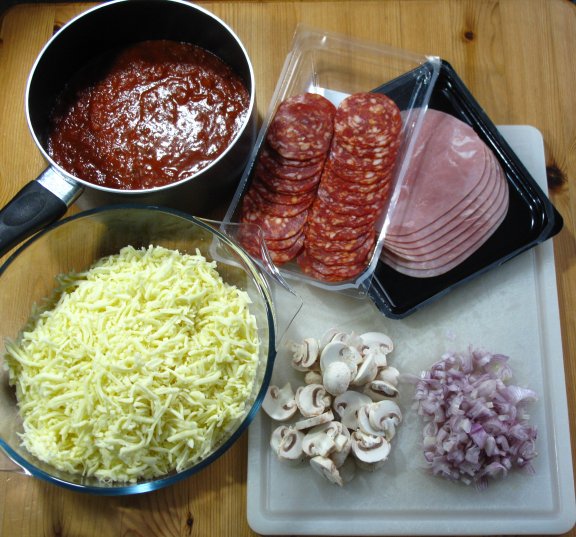 You need to start about 1:45 hours before you want to eat pizza.
I use a Panasonic Breadmaker
to make pizza dough, so I whack it all in the pan and set the option to pizza dough and 45 minutes later we have a dough ball. A little olive oil in a bowl spread around with a paper towel and put the dough ball into the bowl and roll it around until covered. Into the airing cupboard, or warm place covered by a dish towel while the oven heats.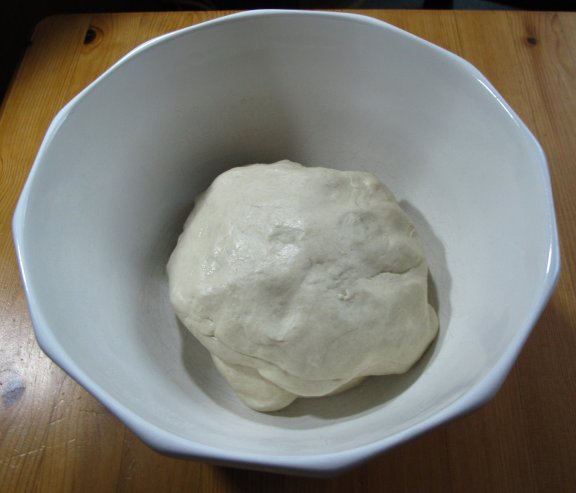 Make sure you have two racks as high in the oven as you can get them. Turn your oven up as high as it will go GM 9, 475 F, 240 C. This can take a while so start early.
Put the Bolognaise sauce in a pan that takes a lid on the stove. Get it up to simmer, put the lid on at an angle so the steam can escape and let it bloop, bloop for about ½ hour until it has reduced by half. I know this makes a mess of your stove, but it is another one of the things you have to do to remove water so you do not get a soggy crust.
While the dough is rising, the sauce is blooping and the oven is finally getting to seriously Hades hot cut up your toppings. If you like sausages on your pizza get some nice quality sausages and cut the skin off and brown into little clumps in a pan at this time.
Prepare the pizza pans (see pans below). Put a small bit of vegetable oil on the pan and spread thinly with a paper towel. Then sprinkle lightly with semolina. This helps the pizza slide off of the pan after they are cooked. It is also another way to get a crispy dry crust.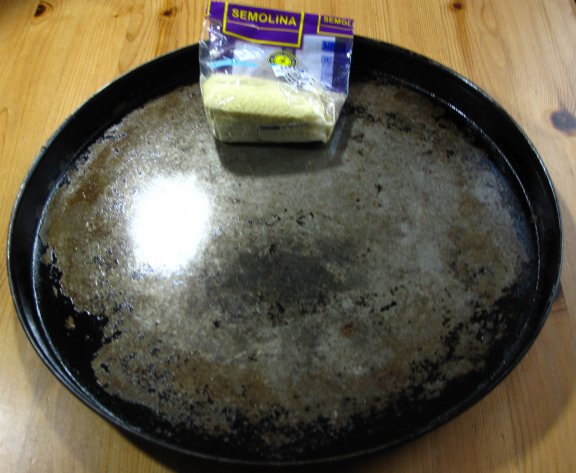 After about ½ hour of the dough rising in a warm place then flour a board.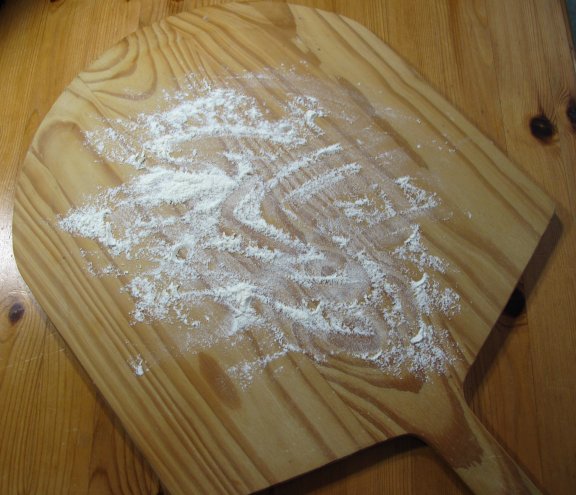 Roll out ½ of the dough until you have a size about the same as the pan. I find that rolling with my right hand while holding the dough with your left works best. Often dust with flour and turn over to keep from sticking. When rolling, roll well past the edge of the dough as the consistency is very elastic and it needs a bit of force to stretch out.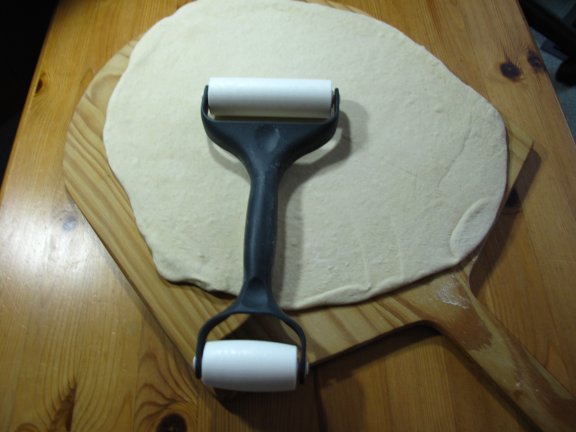 Now put a couple of spoonfuls of sauce on the pizza base and spread out with the back of a spoon. Once again this is a place where you have to stop putting sauce on before you are think you are done, otherwise you will have too much liquid and the crust will be soggy.

Slam on the toppings, cheese first then anything you want… except sweet corn or fish. Now come on no one really likes this kind of stuff on a pizza so just, just don't do it.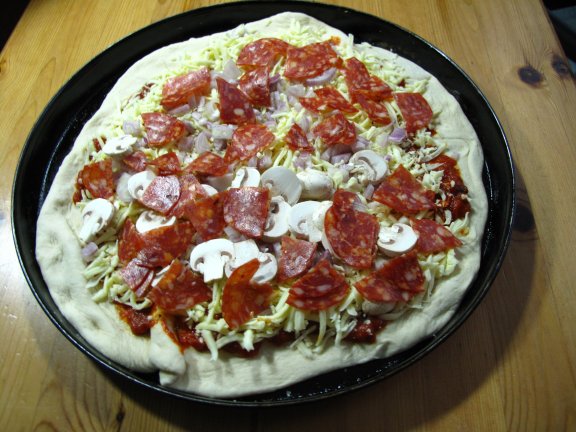 Into the oven. Put your favourite pizza on the top shelf first as this will be the best one (he he don't tell anyone). Set the timer for 10 minutes and then swap the pizzas on the shelves and reset for another 10 minutes. Now you have two magnificent pizzas.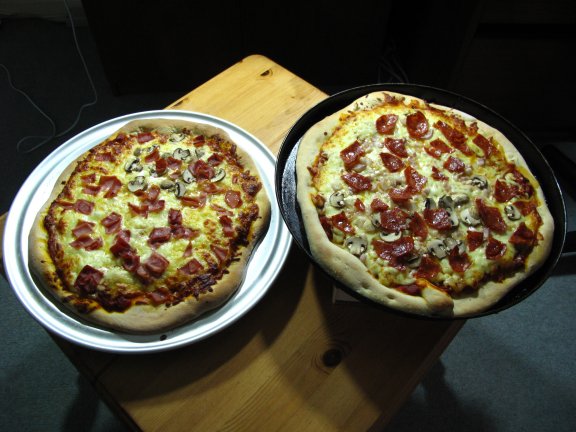 So why go through all of this…
It is good fun to cook with your children and/or have them cook for you
It teaches life skills to your children
Cost for Pizza Hut delivers 2 x 14 inch pizzas with multiple topping and two sides £30
Cost for Pizza chez home made 2 x14 inch pizzas with multiple topping and two sides max £15
– nuff said half price
* Ok so I know this is the most expensive and worst quality mozzarella cheese, but it is dry. I hate watery pizza as it makes the crust soggy. We do not have enough really hot dry heat like in a real pizza oven so we must adjust our ingredients accordingly.
Pizza Pans
My favourite pizza pan was given to me by my children for Christmas. They bought it at Lakeland and it is simply amazing. Great thin crust pizza every time and cleans up with hot water and a paper towel. It is a Heartland Bakeware Pizza Pan and was carried by Lakeland but no longer does them. Maybe we can get enough people together to get a shipment from Kansas City in the US.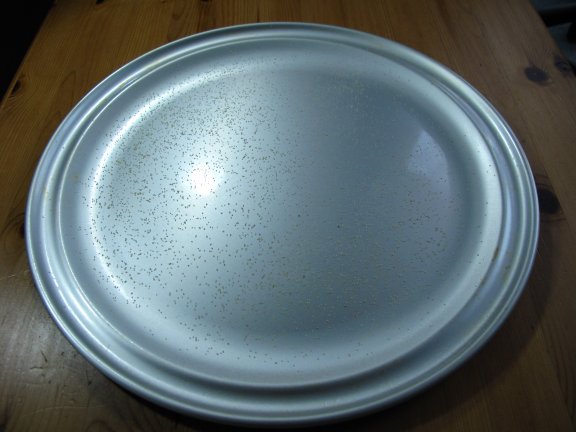 My other trusty pan is steel with no coating at all. It has never been washed in soap but just hot water. Then a splosh of vegetable oil spread around with a paper towel. This is called a seasoned pan and it hardly ever sticks even though it has no surface on it. But I am afraid I would trade it quickly for another Heartland pan.
This blog is hosted by Brinkster, great service and support so
check it out…