I have been trying a new way of eating by reading The Calorie Myth: How to Eat More, Exercise Less, Lose Weight, and Live Better. To get more vegetables into your diet he recommends drinking green smoothies, which looked and sounded disgusting until I came across a book written by his colleague Eat Smarter! Smoothies and Sides. Carrie calls the original smoothie from Bailor's book The Hardcore Green Smoothie and I have to agree. It was not until I read Carrie's book that I was tempted to try her version. The first thing you have to do is order some guar gum and Xylitol on the internet, I know it sounds weird but it is well worth it for the texture and storage of these smoothies (they are supposed to be smooth right!). The other thing you need is a powerful blender. Most of the blenders that make soup also are up to the job (they are supposed to be smooth right!). All the rest of the stuff you can get at your local Sainsbury's, including the whey protein powder near the chemist area. [Updated Sainsbury's has Xylitol also it is called Total Sweet ]
It is fresh strawberry season in England so I decided to take one of Carrie's recipes for Green Smoothie – Strawberry Milkshake and twist it up a bit to take advantage of the local produce.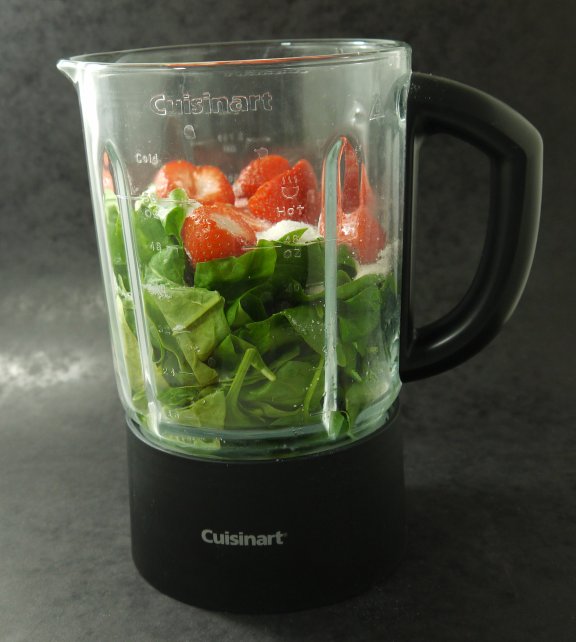 1 cup unsweetened thin coconut milk
4 oz. / 110g fresh spinach
⅔ Cup / 2 oz. / 55g strawberry whey protein powder
2 tbsp. Xylitol (depending on tooth)
5 oz. / 140g fresh strawberries tops removed
Two – three handfuls of ice cubes
¼ teaspoon guar gum
Place ingredients in the blender in the order listed, except guar gum. Blend on high until completely smooth. Tap the guar gum through the hole in the blender lid while the blender is still running and blend for 5 seconds.
Here is the finished product.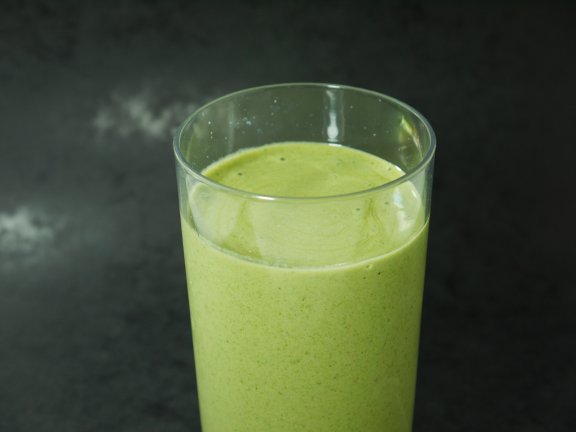 I gave some to my son yesterday and he exclaimed "That is great – you need to bottle it up and sell it". My daughter just looked totally confused and said "That tastes like strawberries, but it is green".