I have been trying to get to grips with my WSM, so today I went to the UK Weber Grill Academy, "Weber's purpose built cooking school – open all year!" for a course on Smoking Methods. Once out of Reading, I had a lovely drive in the Oxford country side, through blue bells and rape seed fields to a house just outside of Oxford. Upon entering the car park I saw the amazing site of the Weber Experience BBQ Roadshow Airstream Caravan.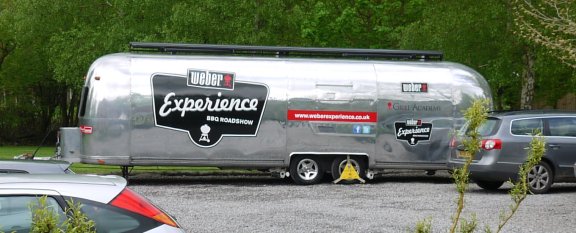 We were greeted by Clare who orchestrated the day excellently.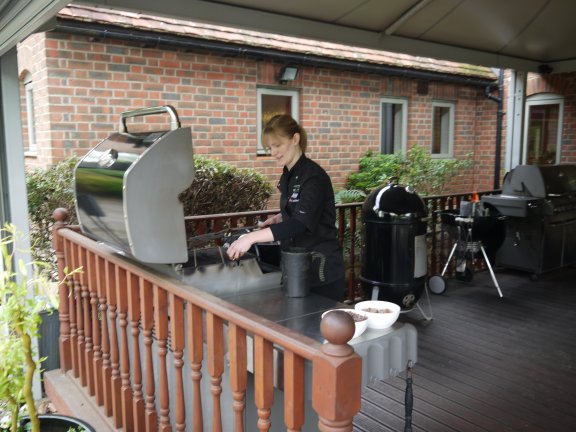 Oh and a lovely freshly smoked bacon sandwich… nice.
Jamie was our chef, who played mainly the indoors role where he explained/showed the prep to us (at their new table…, your welcome Clare)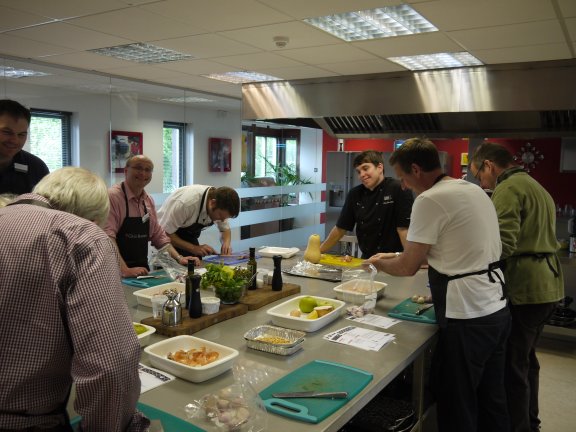 Jamie is also a dab hand at bread making as he made this Focaccia which was cooked on the grill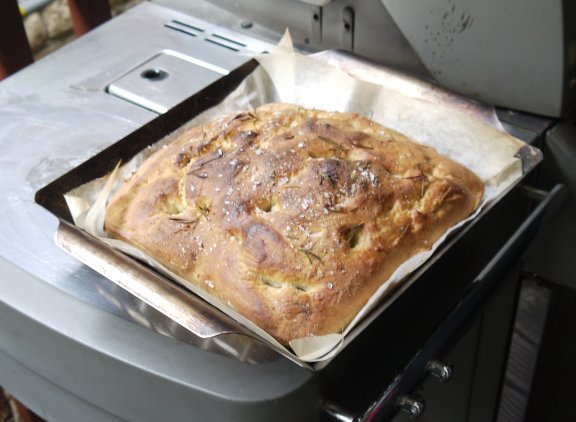 The Focaccia (still warm) was used to host our smoked cheese and also some mackerel pate (which I really liked)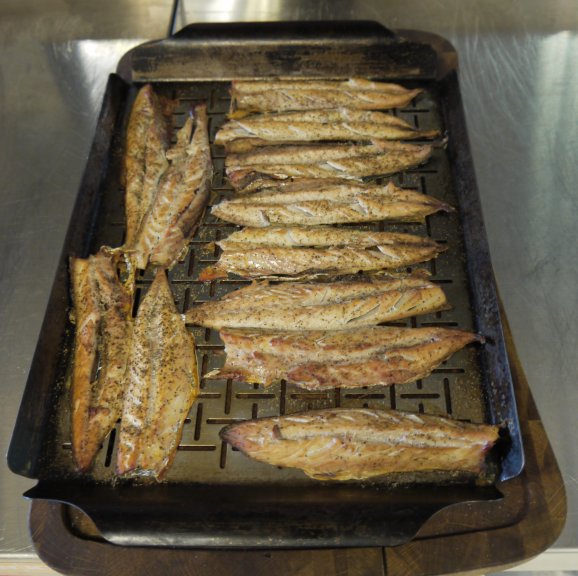 It was interesting to cold smoke the cheese, which I have never done but always wanted to. We used two briquettes in a metal ring and then put soaked wood chips on top of them with the cheese on the other side of the BBQ. Then when the lid is on you put the vents of the lid over the cheese to pull the smoke over the cheese. You have to let the cheese mature in the fridge for 3 days before eating, so we tried some that they had done earlier.
After prep'ing the food course we would head out to the covered grill area to cook and smoke the food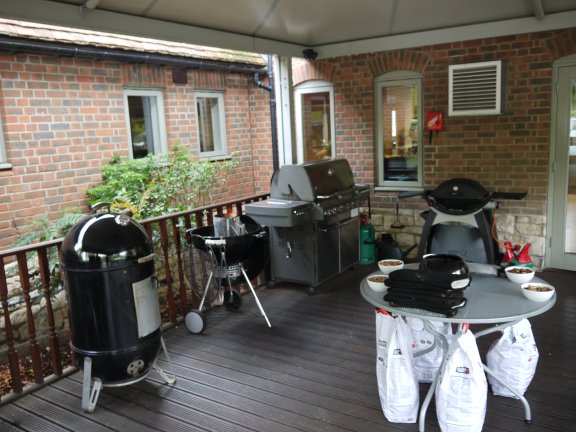 Clare would explain everything about the fire prep, cooking and determining when the food was cooked (every BBQ chef's dilemma do I cremate it or give them food poisoning).
We used just about every method of grilling and smoking on just about every product Weber catalogues:
Charcoal – direct / indirect / 50-50 / Cold smoking
Weber Smokey Mountain
Weber Q
Planking (some did not make it through the day – vbg) and Wood Papers
Gas with their new smoking boxes that fit over the flavour bars – (nice bought one of those in the accessories store)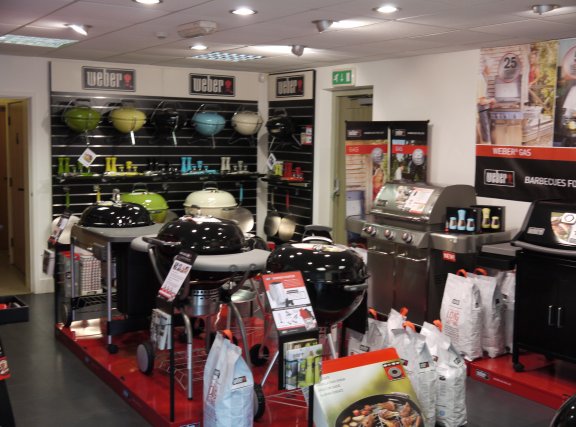 We also used lots of different wood chips to smoke with:
Cherry
Apple
Pecan
Hickory
Oak
Mesquite
Each wood has its own smoking time and permeation into the food which then determines the depth of smoky flavour. We spent quite a bit of time with Clare discussing this with us, and also used all of the wood types to their best food partner.
This process would continue for rest of the day, prep then cook until about 1:00 when we got a sit down in the dinning room (aaahhhhh my poor feet, not used to standing all day)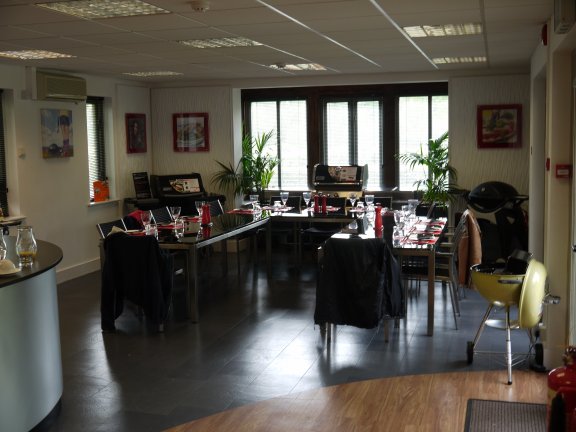 In the first course we tucked into smoked shallots dipped in smoked sea salt and smoke peanuts. I really need to have diced smoked shallots on one of my burgers soon, so good. Then the foccacia turned up and with it smoked mackerel pate and some sliced smoke cheese. Too bad I was driving because at that time a large glass of crisp house white would have really hit the spot… another diet Coke please 🙁
While we relaxing and eating our aperitifs, Jamie was making our smoked peppers/tomatoes/garlic into a lovely soup by liquidising and straining then reheating and finally adding some mascarpone cheese. This was brought to the table and I had a great time dunking the foccaci into my tea cup of soup (dunking is not "the done thing" in proper British Society but who cares it rocks!!!).
Jamie had been up early to get the Weber Smokey Mountain smoking some ribs and pork shoulder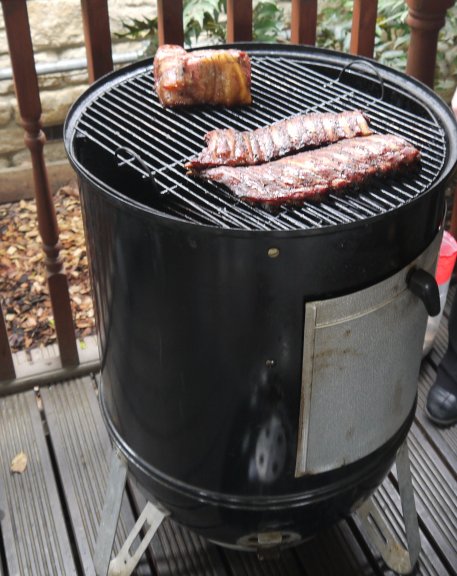 And I have to admit that this pork shoulder was the best food of the day, thanks Jamie! I am going to do this soon, but with longer days I need to brine on Friday and then cook on Saturday for about 8 hours to get the pulled pork that I am destined to be famous for… or not.
All in all a great day out and learned lots!! The staff at the Weber Grill Academy are top notch, and the venue was first class. Get in there and learn to BBQ properly and not serve burnt bangers; this is the place to learn it! Now all we need is… some BBQ weather!
This blog is hosted by Brinkster, great service and support so
check it out…