Meatballs. This week I was on holiday with my kids and I asked them what they would like me to cook for them. My daughter chose Pulled Pork Sandwiches, and my son chose Spaghetti and Meatballs. These take some time to put together, but it is so worth it! I used to purchase pre-made meatballs from the shop, until we went to an Italian near us called Don Beni's and my son had his favourite meal which is spaghetti and meatballs. He could not finish all of it so I had a meatball, OMG this was lovely, heaven and the texture was amazing. Much better than the gristle ridden stuff I was buying from the local grocery store. I then went on the search for the ultimate meatball recipe and this is what I came up with.
WARNING: Food toy required to make this recipe. You will need a food processor to make this. You could probably make it without, but it would be really tedious. Anyway now you have an excuse to buy one, as this recipe is worth it. Plus if you buy one that has a blender attachment you can make margaritas, now you have two reasons!
This recipe makes 4 x 1 lb helpings of meatballs. I usually freeze 3 of them and then eat one for tea. First ingredient is a triangle of Parmigiano Reggiano cheese.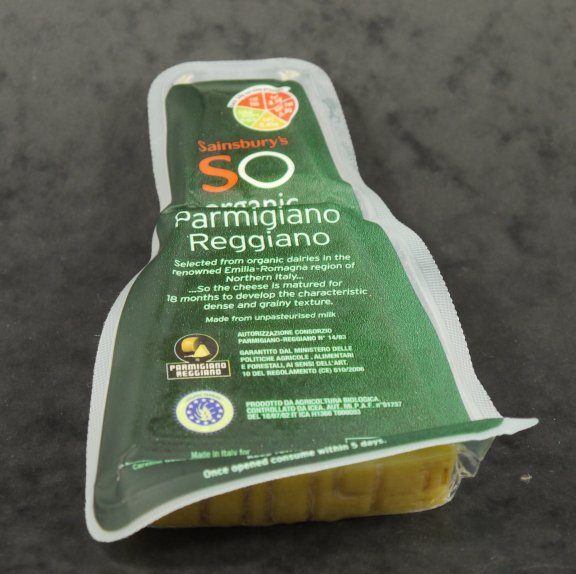 Put the fine grater on the food processor.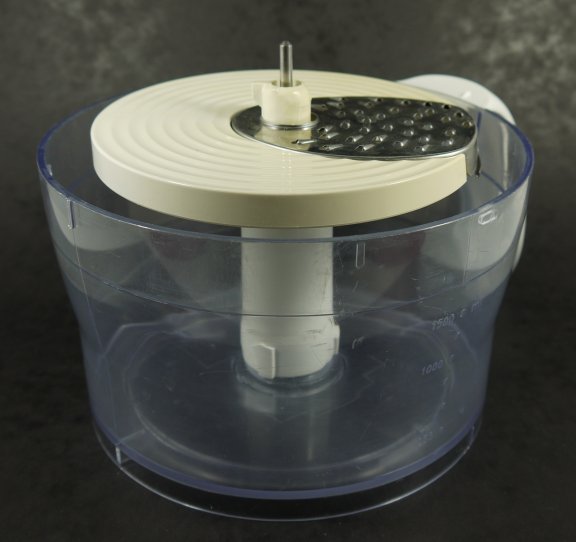 Remove the rind from the cheese and then process the whole triangle.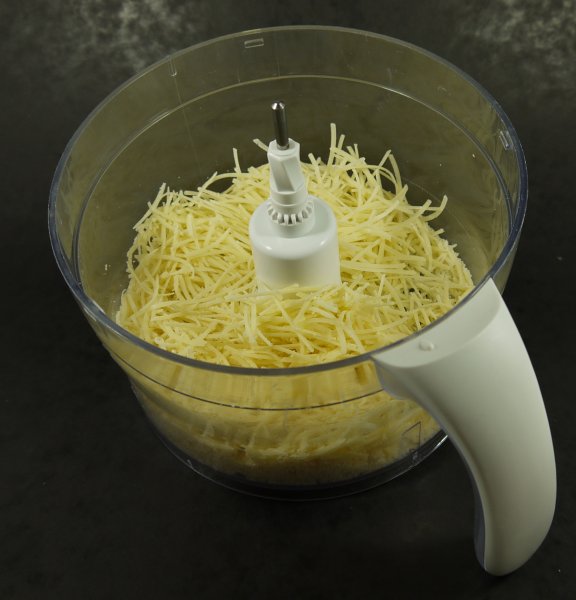 Put the grated cheese into the largest bowl you have.
Now fit your food processor with the blade. You need 4 slices of crusty bread so I used ½ of a white pave from Sainsbury's.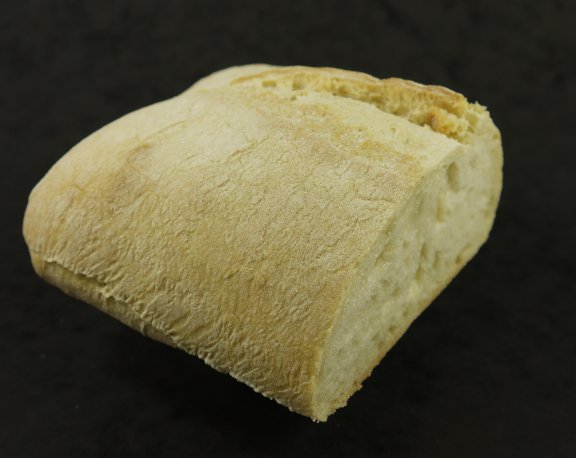 Cut this into slices and put into the food processor bowl.
Now it is time to give a fresh parsley pot a haircut. I used about 2/3 of a small pot of fresh parsley and it goes into the food processor bowl.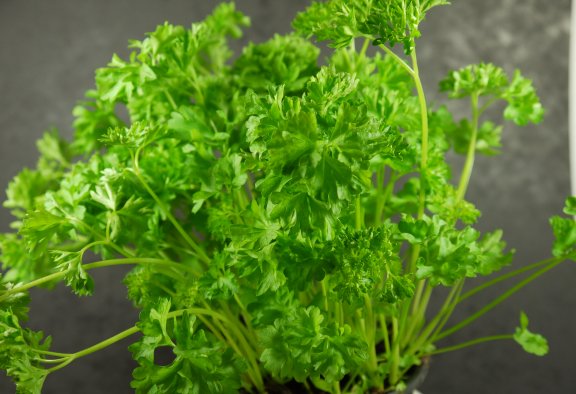 Normally I would just go to the garden and get some but the heat last week killed mine off because I was not paying attention to the water bit of the growing equation.
Now into the bowl go 4 peeled cloves of garlic and an onion.
ASIDE: I find the best way to get the garlic smell off of my hands is to put some sea salt into my hand before adding the liquid soap, and then rubbing really well before using any water.
4 teaspoons of salt and a sprinkling of black pepper over the top and we are ready to Rock and Roll food processor style.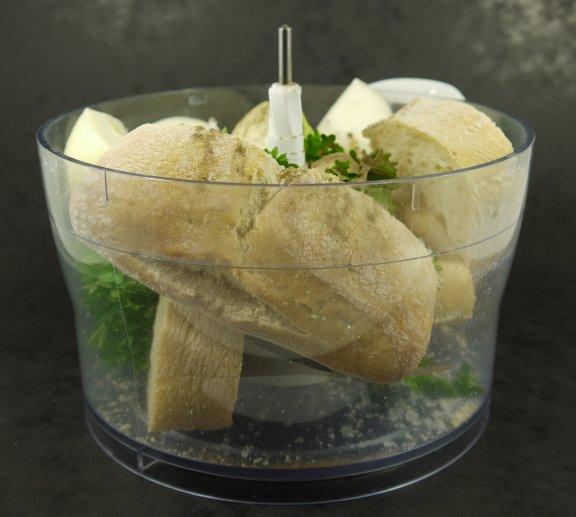 Make sure you hold onto the processor when you start it because there is a lot of mass in the bowl and it will jump about a bit. When it is finished it has the consistency of stuffing, but oh the smell is heaven (parsley, garlic and onion)!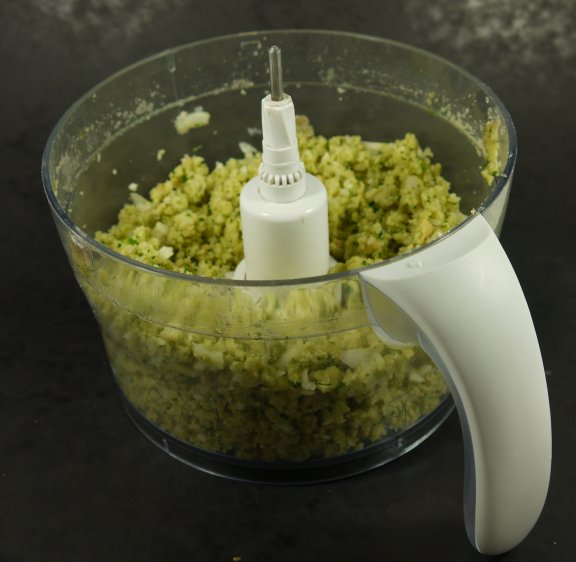 Put the mixture into the bowl with the grated cheese. Get your meat out of the fridge, we need:
500g ground pork
500g ground lamb
500g ground beef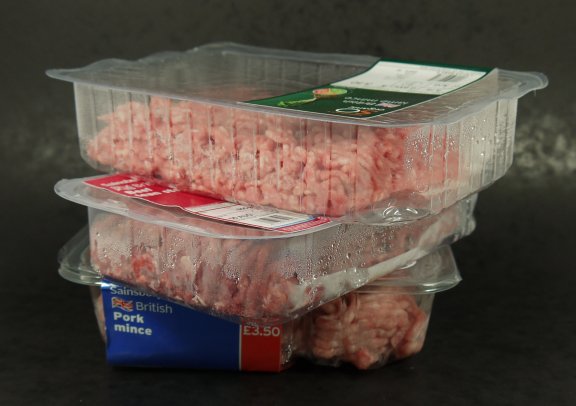 There is no easy way to do the next step so open the meat packs and put them in the bowl. Now don an apron and wash your hands cause this is going to get messy (and cold). To mix the ingredients thoroughly use your hands to lift from the bottom of the bowl and then squeeze through your fingers. Do this a couple of times and then turn bowl 90 degrees and continue. When it is mixed you are done.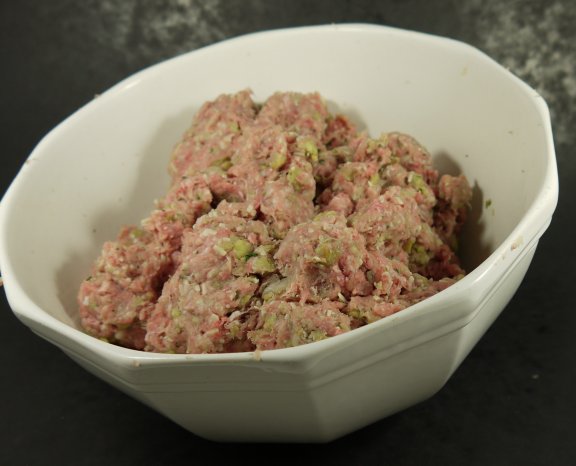 Bag them up into 1 lb freezer bags and put one into the fridge for dinner. I used to make them into balls and then bag them for the freezer, but I always needed to reshape them after defrosting so I thought what is the point. About an hour before you want to eat form the meat into balls. A good size is a ping-pong ball size. They keep there shape in the frying pan and there are not too many to turn. About 12 is a good number to shoot for because 3 are enough for a meal and a pound of meat should feed at least 4 people.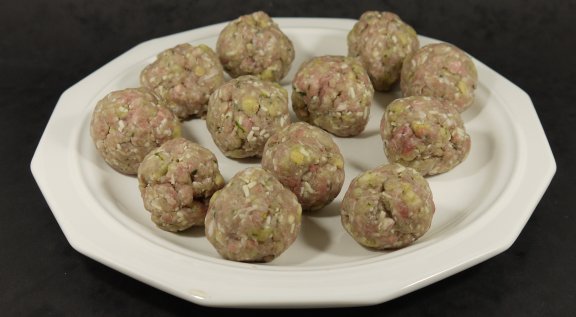 The meatballs need to be browned so a medium low heat on your smallest burner. Let the pan get to heat and then brown them on all sides in a good quantity of olive oil. I use a set of tongs to turn them but you can also use a fork and spoon.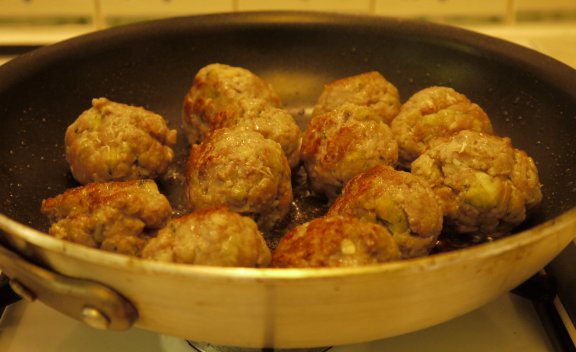 If you served them now they would be ok, but a little too crunchy on the outside. The browning was to add flavour but not really cook them through. To soften them up which really makes them to die for, we need to nestle them into a sauce pan.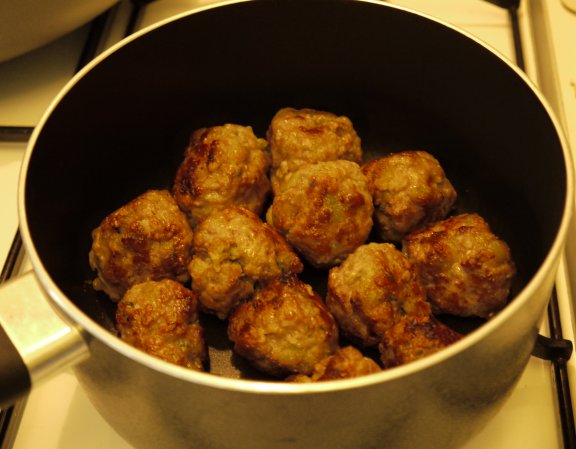 Cover with a jar of Dolmio and a lid. Then let them bloop – bloop in the saucepan over low heat for half hour or so. Serve over pasta with some tearing bread smothered with garlic butter.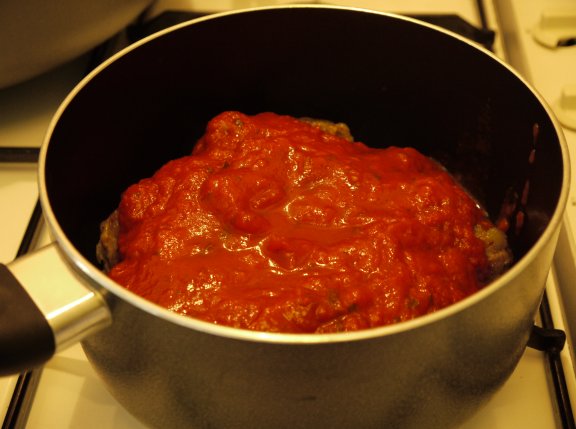 This made my son go yuuuummmm (but that was given since it is his favourite meal).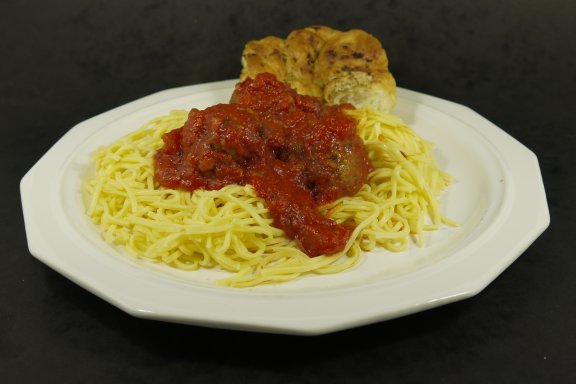 This blog is hosted by Brinkster, great service and support so
check it out…