cupcake. My daughter and I have been watching a new food show called: Kid in a Candy Store. Also while on holiday we bought a bunch of lollypops from Costco, and one of the favourite ones is called a drumstick. Well at least these are the first to go.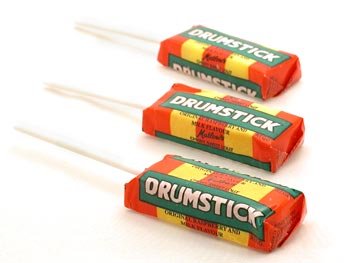 Here is a description:
Matlow's drumstick lollies original raspberry and milk flavour. The lollie is a pink and white colour under the wrapper.
We decided to come up with a new cupcake based on the Drumstick. They are toffee so not really going to be good cooked. They are also very chewy so we really did not know how to incorporate them into the cupcake that was until my daughter dipped it in her cold drink and then clinked it on the side of the glass. The cold had made the toffee hard. I had seen a picture in Modernist Cuisine: The Art and Science of Cooking
of a piece of soft cheese that had been dipped in liquid nitrogen and then broken into pieces in a process called cryoshattering. I had a hammer but totally out of liquid nitrogen for some reason, so the freezer had to do. After a couple of hours in the freezer we double bagged the lollies and smashed them up with a hammer which worked really well, as they shattered into small pieces. These would be put into the frosting for the cupcakes.
It is raspberry season in the UK so we purchased some from Sainsburys.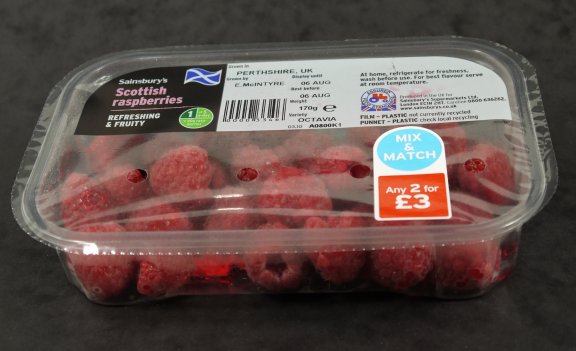 I had given my daughter a cupcake making kit for Christmas which had a cookbook and a silicon cupcake tin. The one she chose to go with the raspberries is Vanilla Butter.
3 eggs
1 cup butter, softened
1 cup caster sugar
½ cup buttermilk
1.5 cups self-raising flour, sifted
1 tsp vanilla extract
Raspberries
Topping
1 cup icing (powdered) sugar
1 cup butter, room temperature
6 drops vanilla extract
Drumstick bits
In a small bowl beat the eggs until smooth. In a large bowl, cream together the butter and sugar. Then add the eggs to the creamed butter and sugar and mix until light and fluffy. Add buttermilk, flour and vanilla and stir. Beat with an electric mixer for two minutes, until light and creamy. Then fold in the raspberries.
Fill cupcake cups until almost full. Bake for 25 minutes at 160C or 320F and test with a toothpick until it comes out clean.
Topping
Mix half of the butter and sugar with a wooden spoon to combine. Then add the vanilla and the other half of the butter and sugar, beat until fluffy. Then add the drumstick bits and mix.
Here is the finished product with its cupcake paper.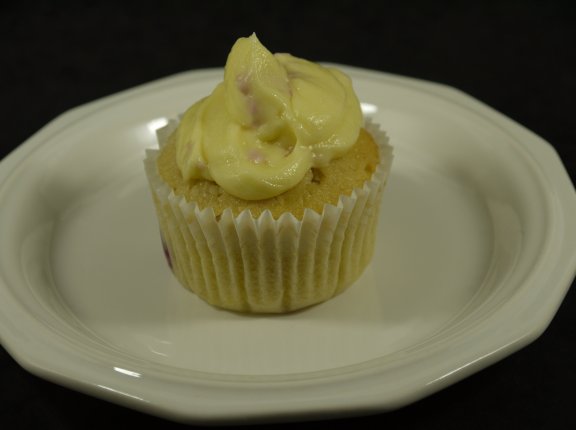 If you look closely in the frosting you can see light pink specs which are the drumstick shards.
I removed the paper so you could see the raspberry's incorporated into the cupcake.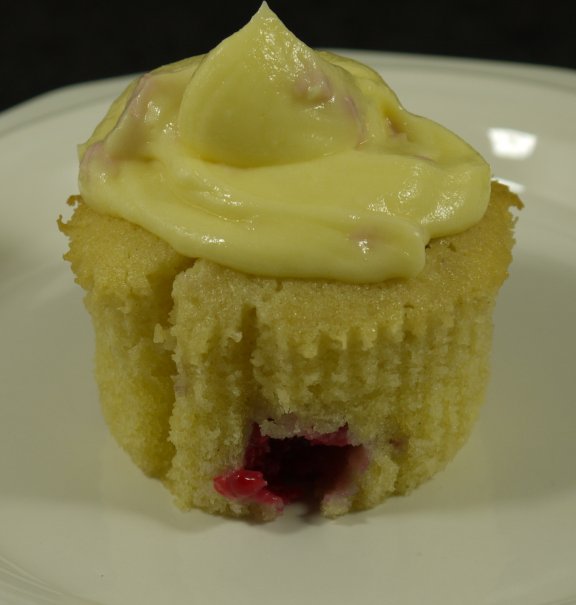 They tasted amazing, and each mouthful finished with chewy drumstick bits. My son said yuuuummmm these are probably the best cupcakes I have ever tasted. This was quite amazing as it was a compliment to his sister.
This blog is hosted by Brinkster, great service and support so
check it out…