As you probably know I have been into smoking meat lately. There are several techniques that are used in the USA and are now making an appearance here in the UK. They are based around using hard woods as a flavour enhancer and can come in the form of wood papers, wood planks used once, wood planks used many times and wood chunks and chips.
One company that I have been watching (on Facebook) lately is The Roasting Plank Company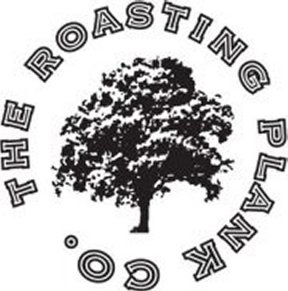 Last week I saw posting that showed what looked like a compressed log of wood chips which was being used in a Weber Smokey Mountain.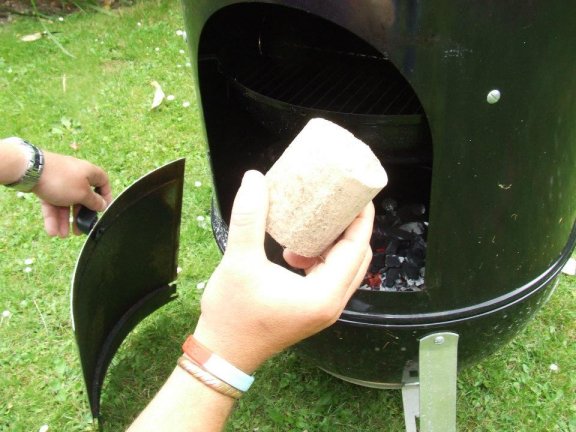 I went to their website to try and buy some. But I could not find them, so I emailed them and asked what was up. The next thing I know I am a beta tester of a new product.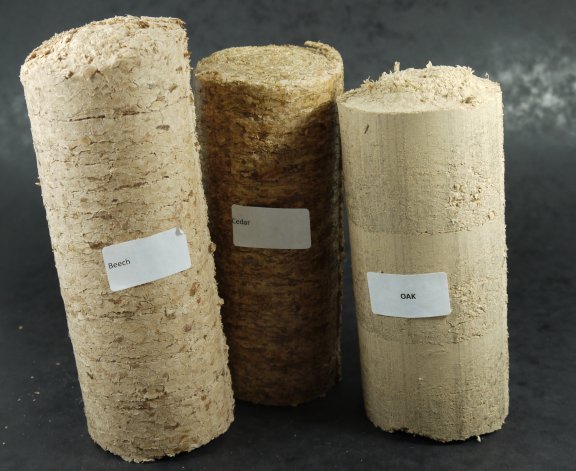 I had used Cedar planks for salmon in the past and also Oak chunks in my Weber Smokey Mountain, but I had never used Beech. One other thing I have never done is beer can chicken where you cook the chicken upright sitting on a beer can partially full of beer. Win/Win and it was a steaming hot day in England. Off to Costco to get a really nice chicken.

This chicken needs a bit of work to make sure it is really juicy. So I took my Jaccard
to it and put lots of little holes into the breast and thigh. I was kind of following the recipe for beer can chicken in Weber's Smoke: A Guide to Smoke Cooking for Everyone and Any Grill
. I decided to brine the chicken for a couple of hours with 1/8 cup of Sea Salt an 1/16 cup of coarse black pepper. Put it in a cooler with some water and ice before you are going to cook.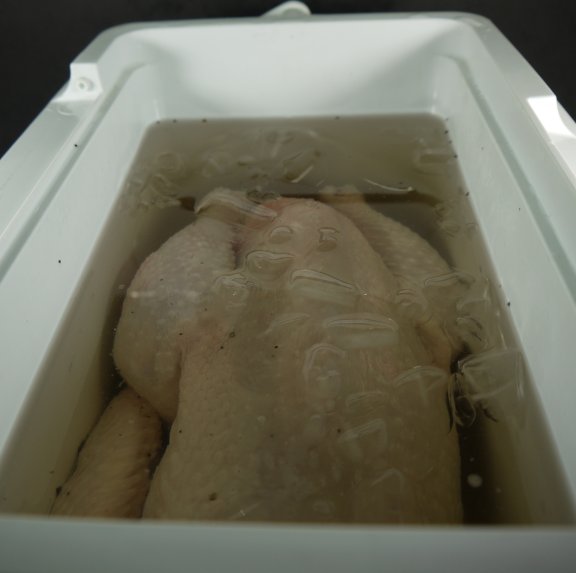 Once the chicken was suitably brined I needed to get it out of its ice bath and return it to room temperature for 45 minute or so. During that time I put together a simple rub as outlined in Jamie's book;
1 tsp sea salt
1 tsp chilli powder
1 tsp garlic granules
1 tsp coarse black pepper
I dried the chicken with paper towels and the basted it with groundnut oil and the applied the rub.
I got a can of beer out and poured about 1/3 of it down the drain (what a waste, but it was warm and nobody likes warm lager). I smashed a couple more holes in the lid with a can opener and we were now good to go.
Now I need to setup the BBQ. I decided to put the wood log on the flavour bars, but not over heat. But after a few minutes it was not really getting going, so I put it over the direct flame. In another 5 minutes I had the opposite effect which was that it caught fire, but that was kind of good since I now had smoke. I blew out the fire and move it back to indirect heat.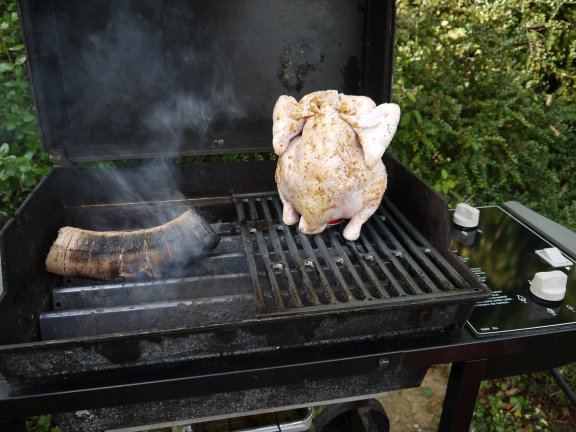 I turned the back burner down to low so I was cooking the chicken indirectly and this also gave some heat to the log, so we were smoking!!!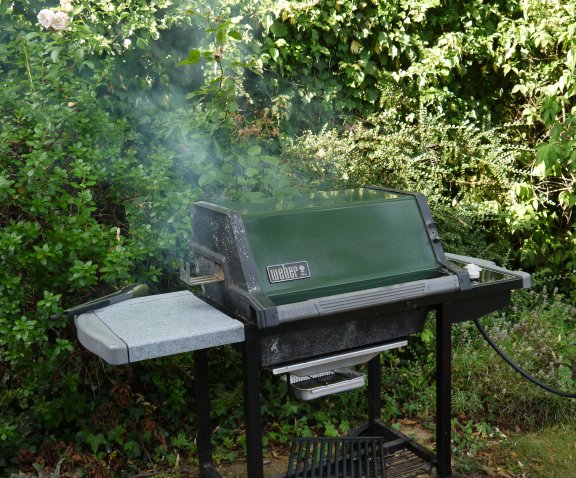 But I left the front burner on high – oops after about 45 minutes I noticed that the sound of drip, drip of fat from the chicken had turned to sizzle…. Fire! I turned off the gas and got a glass of water to dampen things down. A little attention and a sprinkle here and there got things back together. With the front burner down to medium and the back burner on low everything was good and we were smoking again. After about an hour I checked the temp and the chicken was done.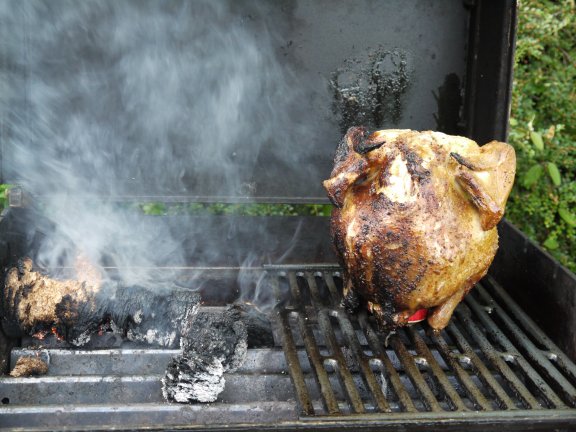 After a BeerCanEctomy the chicken was on a platter and in-da-howze for some resting and then troughing.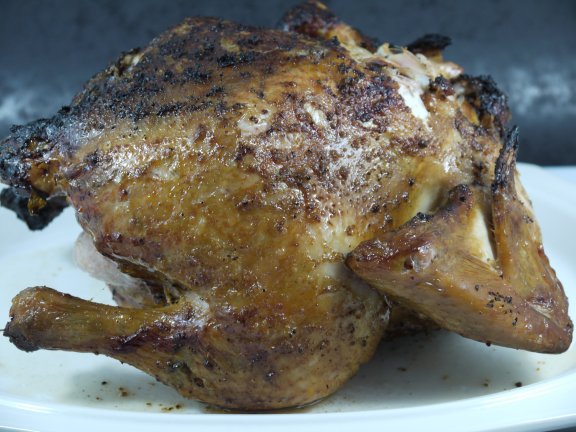 And here it is plated up with some honey mustard coleslaw and some potato salad.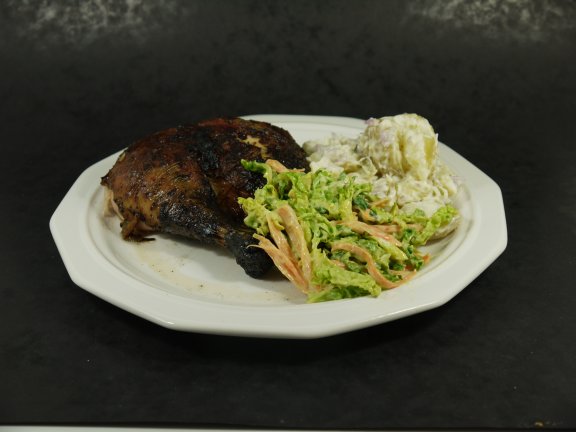 It was really juicy and moist. The skin was very nice with the rub. Beech is a light smoke flavour but it really worked with chicken.
I am thinking that the left-over chicken will be great on a flour tortilla with Chipotle paste and some salsa, lettuce, guacamole and sour crème tomorrow oooohhhh yyyaaaaa eat it learn!!!!.
This blog is hosted by Brinkster, great service and support so
check it out…