a promise to review of Weber's Time to Grill: Easy or Adventurous, It's Your Call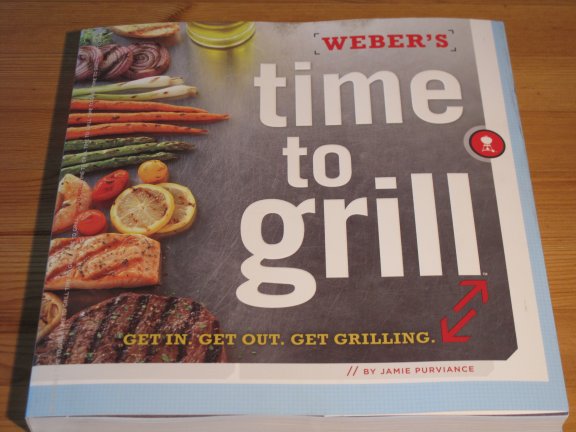 I have been following Jamie's recipes in his Recipe of the Week which you can sign up for at Weber Life.
I finally got a chance to sit in the sun and have a good read of all the recipes in this book this afternoon. My overall opinion is that it is well written and covers not only BBQ but cooking in general, and good value for money. The reason I say it is more than a BBQ cookbook is that the first section, on Grilling Basics, is 30 pages of information that any good cook should know. For example, I did not know how to butterfly / spatchcock a chicken which is covered well in text and pictures. Jamie has broken each recipe into a quick method on the left facing page of the book and a more adventurous on the right facing page. In my opinion skip the shrink wrapped "BBQ" food in the cold section of supermarket and buy this book to learn how to use raw ingredients to create quick or adventurous creations for the BBQ which will taste twice as good.
The book is broken down into sections:
Grilling Basics
Appetizers
Red Meat
Pork
Poultry
Seafood
Eggs
Vegetables
Deserts
So I will follow the same layout in my review.
Grilling Basics
This is a really good overall summary of the equipment and techniques you should have to prepare food for the BBQ, which can be the toughest bit for most people. The section on rubs, marinades and sauces is a more general set of recipes. Throughout the book these are used but also other sauces and marinades are introduced.
Appetizers
I found these recipes a bit too fiddly for me, but it was not a large section either as it was only 20 pages of the 300 page book.
Red Meat
Since Jamie is American the cuts of meat may not be the same that you are used to, for example Tri-Tip. Also this section covers several recipes which use minced beef, but BBQ meat loaf…hmmm not quite sure about that one. This section also includes lamb and one of the recipes I am going to try is Lamb and Chorizo Burgers with Jack Cheese and Poblano Chiles served in pita bread. I never thought of cooking kofta on the BBQ but it makes sense as I grill it indoors. When covering steaks Jamie has many sauces included in the cooking instructions. One sauce which caught my eye is where he discussed making Béarnaise sauce and "that is usually strikes fear into the minds of amateur cooks" followed by a discussion of using raw eggs in sauces can cause salmonella. He does spark my attention every once in a while with "I never thought of that on the BBQ", for example Nachos. I am definitely going to try Churrasco Mixed Grill which has pork, chicken and chorizo, as I wanted to eat the picture right out of the page. I think the American influence of the book has also has brought with it the Tex-Mex side of cooking. For example Queso Fundido which is a chunky Mexican cheese fondue, but I am not sure where I will find at cotija cheese. There are lots of pork chop recipes again with different sauces: Whiskey-Mustard Pork Chops, Buttermilk-Brined Pork Chops, and Moroccan-Spiced Pork Chops, Pork Chops stuffed with apricots and raisins and Miso-Ginger Pork Chops. He has a couple of nice recipes for pulled pork one quick if you are in a hurry and another if you have a nice afternoon and some cold ones in the fridge to spend 3-4 hours to cook the pork. The ribs section has a great tip on how to remove the membrane from the back of ribs using a table knife.
Poultry
This section starts with lots of recipes using chicken breasts. There is a new twist on beer can chicken which used lemon-lime soda, but this also has some tips on how to actually implement the can and liquid. This section also has several turkey recipes, but quite a few of them have a pre-cooking brining step.
Seafood
Prawns and scallops play a major part of this section. It has a really gorgeous paella recipe so I might actually use the speciality pan I bought about 5 years ago. There follows a plethora of salmon fillet recipes with many different sauces. Then something that makes you go wow, Salmon Sliders! Sliders to me are a Illinois thing when I was growing up in America, on Fridays we used to send someone off for 50-60 sliders for lunch. Tuna is next and using mainly steaks with sauces again, but there is a twist where Jamie does a cedar plank recipe. I have never charcoaled one side and then put the food on and finished it off, but I am going to try it. Note Jamie cooks his tuna rare, but if you are like me and only like beef that way give a few more minutes.
Eggs
Huh what is this all about, they will fall between the grates! Oh further reading means you will need a cast iron skillet to do most of these recipes. But a skillet may be worth the investment if you consider Jamie's thought of a lazy sunny weekend morning's brunch, and maybe a bucks fizz (I added that bit).
Vegetables
The first really nice recipe that hits me is Asparagus and Potato Napoleons with Tarragon Vinaigrette which is a short stack of potato pancake, asparagus, goat's cheese and repeat… nice. Another wow hits here with Roasted Brussels Sprouts marinated in lemon olive oil. I want to try this for sure but don't know where I am going to find champagne vinegar. What follows is lots of eggplant recipes so I kind of glazed over.
Deserts
I did not really look to closely at this section because, after all the work of prep and cook a proper BBQ someone else can do the pudding.
This blog is hosted by Brinkster, great service and support so
check it out…