FLAVOUR! Yesterday my children bought me a Smoker Box for my birthday. So of course I had to use it. Got some chicken breasts from Sheeplands Farm Shop which has a butcher shop inside owned by Jon Thorners (really nice Steak and Stilton Pie, no really it won an award and everything). Picked up some bread rolls from the farm shop at the same time, as I wanted to frag some opposition on Black Ops with the kids instead of making bread.
I put some wood chips into a jar filled with water about and hour before I wanted to start to smoke. It takes ½ hour to soak the wood chips and another ½ hour to get the smoker box up to "smokin" hot. It will take an hour to hot smoke the chicken breasts, so all in you need to prep about 2 hours before you want to eat. Most books will tell you that is not enough time as you should brine the chicken before smoking which takes about 24 hours, but I had a new food gadget and had a "now" thing going. Drained the wood chips and put them into the smoker box. I have two burners in my Weber so I put 1 on and set the smoker box on the "flavour" bars. Not much was happening so I opened up Volume 2 of Modernistic Cuisine and scanned the pages on smoking. First thing is they said not to soak the chips, ooops not again. The next thing they said is that the temperatures for smoking is really high, so back out to the BBQ and on with the other burner cranked both of them up to full. About 20 minutes later we were smoking. So I turned off the back burner and turned the front one down to 1/2, and let it cool a bit before oiling the grate and putting on the chicken breasts to the back of the BBQ, as they should hot smoke not cook so you should not have any direct heat on them at this point. Now here is the rub, I want to look but if I look all the smoke will go, but I want to look but if I do all the smoke will go….grrrrrr. Set the timer for 30 minutes and go use an RPG to nuke some opposition and forget about looking, oh and shut the windows and doors to the BBQ.
After 30 minutes, I had to have a look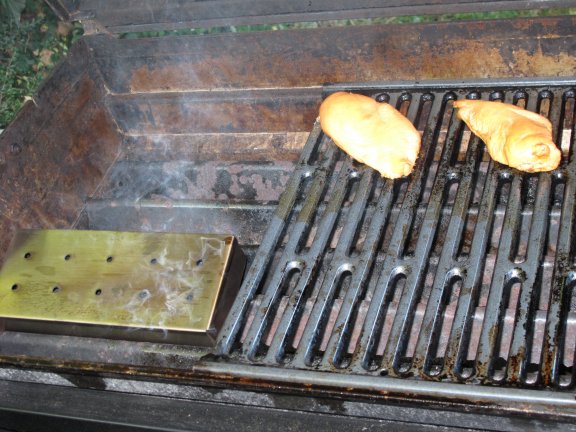 I turned them over and shut the lid and left them for another 20 minutes. Using a temperature probe I checked that they were 180 F and so they were done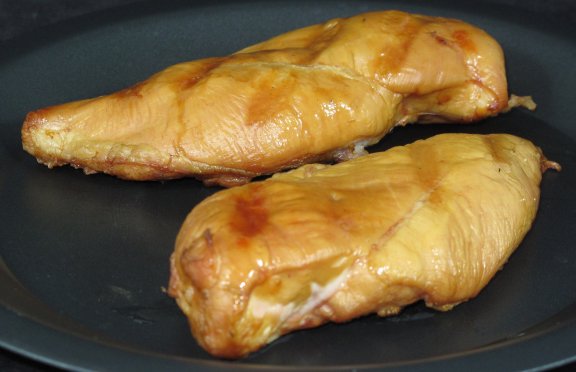 They would need a slaw so I used:
1 cup shredded lettuce
2 tbsp mayonnaise
2 tbsp salad cream
A large pinch of Malden Smoked Sea Salt crushed
This was all stirred together with a fork. Buns were split, smoked chicken breasts were cut in half lengthwise, and it was all plated up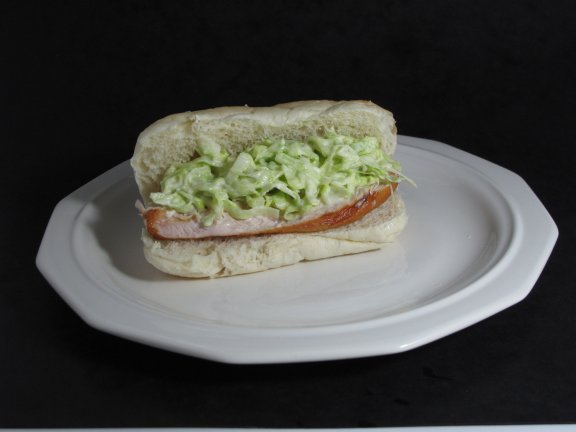 I know that it looks like the chicken breasts have skin on them, but they don't! That is a smoke coating. From what I have read in the Modernist Cuisine you should also take a wire brush to them to poke small holes in the skin that will take the smoke further into the meat, I will update you on that one as I am off to the hardware store for a food toy, go figure.
I said sorry it took so long to cook to my kids, but if you are experimenting with a new food toy it may take longer than you realize. My daughter said no problem, it was worth it. My son just said yuuuummm.
This blog is hosted by Brinkster, great service and support so
check it out…